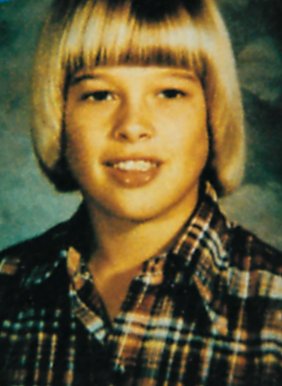 Full Name: William Bradley Pitt
Born: 18. Dec. 1963.
Nationality: USA
Birthplace: Shawnee,Oklahoma
High School: Kickapoo High School (graduated 1982)
College: University of Missouri (journalism)
Religion: Baptist
Occupation: Actor
Probably everyone have heard about this Hollywood superstar. With face which inspired numerous magazine covers, megabytes of Internet sites, and brains of plastic surgeons, in 90´s he became one of the most famous persons in whole Hollywood. But how much do you know about his past?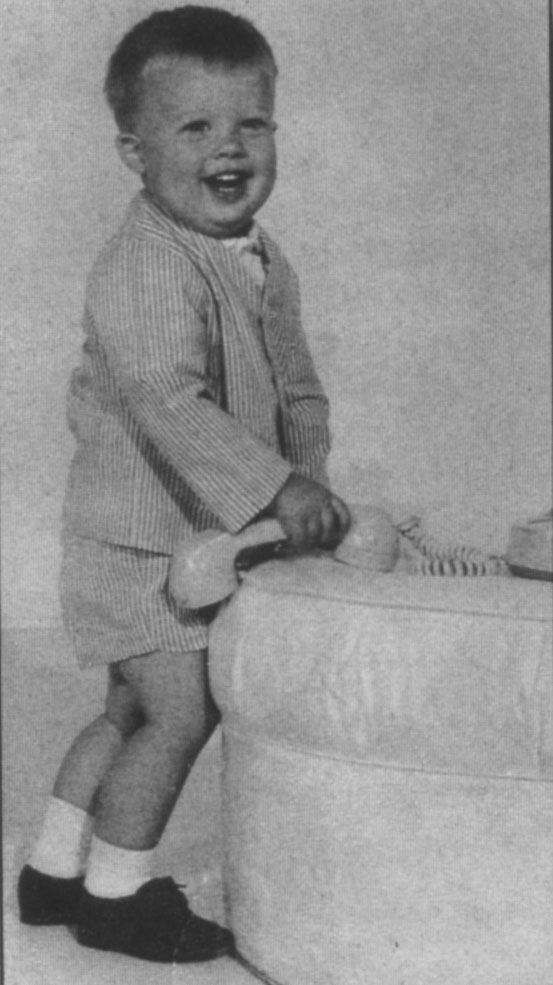 Brad Pitt was born in Shawnee (Oklahoma), as a first child ofmother Jane Etta Hillhouse and father William (Bill) Pitt, but spent most of his childhood in Springfield, Missouri. At that time, his parents lived life like every other ordinary family: his mom was a school counsellor and dad worked in management at truck company in Springfield. They had two more children, a younger brother of Brad, DouglasPitt, and a younger sister Julie Pitt.
Even as a six year old boy, Brad was turning heads during services at South Haven Baptist Church in his hometown."You couldn't keep from watching Brad because his face was so expressive," piano accompanist Connie Bilyeu tells for People magazine. "He would move his little mouth so big with all the words that he attracted everyone's attention."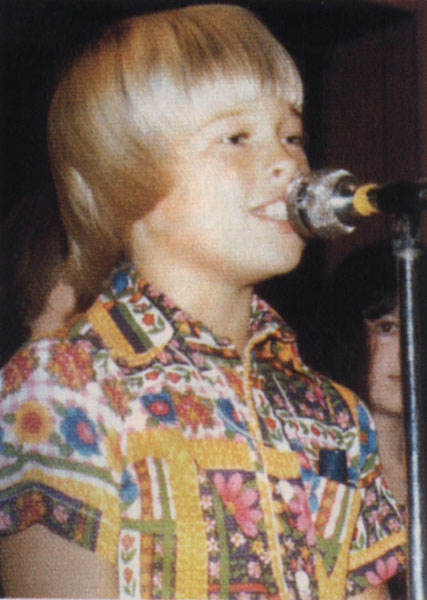 Few years later, after Horace Mann elementary, Brad was attending Kickapoo High School, where he was involved in sports, debating, student government and school musicals. It could be said that he was pretty popular in school. He was voted for best dressed senior and his classmate Mark Swadley said that he always had a lot of dates back in that time.
After graduation in 1982. he attended the University of Missouri where he studied journalism with a focus on advertising. He was a member of Sigma Chi fraternity, and although he acted in some of the fraternity's shows, seemed more interested in music than acting. But in 1986, with only two credits left to graduate and $325 in his pocket, he left school and headed for California to try his luck. He told his family he was going to attend art design school in Los Angeles, but that was a lie. Instead he drove to California in his Datsun, nicknamed "Runaround Sue", and suffered through months of failed auditions.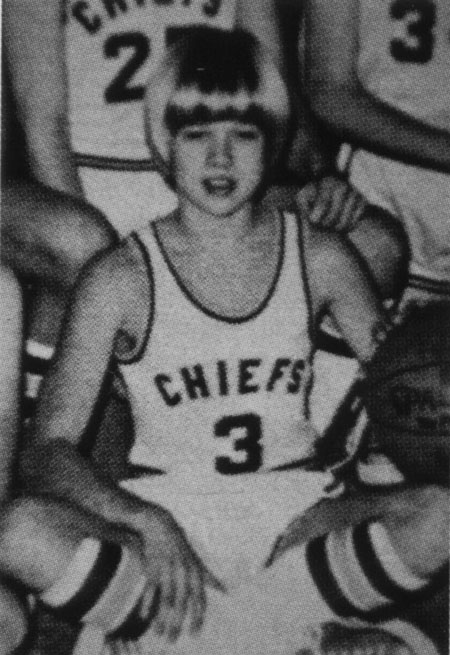 Before he became successful at acting, Pitt supported himself by driving limos for a Strip-o-gram service, moving refrigerators and dressing as a giant chicken while working for "el Pollo Loco", a chain of Mexican restaurants. He was a pool boy and appliances delivery man for some time.
Talking about one of his first jobs at Newsweek's annual Oscar roundtable Saturday in Hollywood, Pitt said, "My job was to drive them (strippers) to bachelor parties and things. I'd pick them up, and at the gig I'd collect the money, play the bad Prince tapes and catch the girls' clothes. It was not a wholesome atmosphere, and it got very depressing."But it was not without its perks: Just before quitting, Pitt made a critical show business contact.
"This girl , I'd never met her before, was in an acting class taught by a man named Roy London," a famous acting coach, he said, according to Newsweek. "I went and checked it out, and it really set me on the path to where I am now." He added: "Strippers changed my life."
So, because of that coincidence, he studied acting with Roy London. Before some major acting jobs began to develop, in 1987, he had small parts in Less Than Zero and No Man's Land starring Charlie Sheen.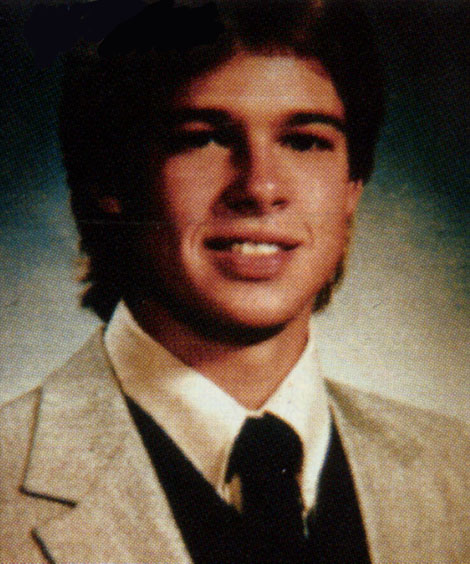 Brad appeared on numerous TV shows, including Head of the Class, where he met Robin Givens, whom he dated for a while. He also turned up on Growing Pains Thirtysomething, 21 Jump, Street, Another World, and Freddy's Nightmare . He appeared on three episodes of Dallas , which led to a relationship with co-star Shalane McCall.
Brad's first major break in movies came in Dark Side of the Sun in 1988., where he played a young American taken by his family to the Adriatic to find a remedy for a skin condition. The movie was shot in Yugoslavia in the summer of '88 with Pitt being paid $1,523 per week for seven weeks. However, with editing nearly complete, war broke out and much of the footage was lost; the film was released years later. Pitt won a part in the TV movie Too Young to Die?, about an abused teenager given the death penalty for murder. Pitt played the part of a drug addict, Silly Canton, who took advantage of a runaway played by Juliette Lewis, his first Hollywood girlfriend
After meeting 16-year-old Juliette Lewis on the set of the TV movie Too Young to Die , they begin dating. "We were trying to be Sid and Nancy or something," he tells People of the relationship, which quickly gets serious when they move intoL.A. home together. The two, who starred as greasy serial killers in 1993′s Kalifornia , break up in February of same year.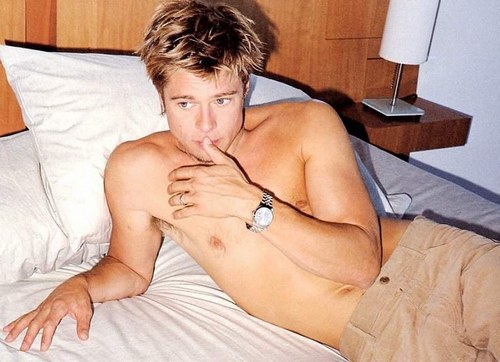 At same time people saw Brad in films like Across The Tracks, Thelma & Louise, Johnny Suede, A River Runs Through It etc. After this roles his carrer started to progress rapidly and never stopped till today.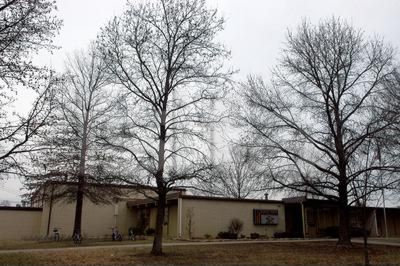 BRAD PITT IN SHORT TRIVIA:
he has a younger brother Douglas and younger sister Julie
would prefer to be a rockstar rather than an actor
he is very interested in music through young age
Brad has been smoking since the 6th grade!
in the year 1982, he was voted best dressed in his school
belonged to the Key Club in high school, which does community service and raises money for charity
he was good in sports,so he was a member of the golf, tennis, and swim teams in high school
after graduation at Kickapoo school, he attended University of Missouri, and with only twoexams till end, he left school and headed for L.A. to become an actor
he is a member of the Sigma Chi Fraternity (the Xi Xi chapter) at University of Missouri
Brad slept on Melissa Etheridge's couch when he first arrived in L.A.

he was in acting class taught by a Roy London
Brad's first job was wearing a chicken suit for "el Pollo Loco", a chain of Mexican restaurants
he was driving a strippers in limos for a while for one agency in L.A.
a prostitute, using only the name of Olivia, has released a tell-all book, claiming she was paid $660 to have sex with Brad many years ago
Brad moved to Los Angeles in 1986 with $325 in his pocket and landed his first acting job (an industrial-training film) within a week
on the set of the TV movie Too Young to Die was dating 16-year-old Juliette Lewis
his favorite food is pizza
Brad's star sign is Sagittarius
his favorite cereal is Frosted Flakes, drink Mountain Dew, and candy Twizzlers
his main hobbies are interior designing, architecture and nature, collecting functional metal art pieces and furniture

he quit smoking while filming the blockbuster Troy.
Brad is boycotting marriage until gay marriage is approved
he is 5 feet 11 inches (1.80 metres) high
In December 1996, Brad announced his engagement to Gwyneth Paltrow who he met at the set of Se7en.The pair split in June 1997.
some girl went to Brad's home shortly after midnight January 7, 1999 and crawled in through an open window, dressed herself in his clothes and stayed for 10 hours before the alarm went off. Athena Rolando, (19) was ordered not to contact the actor and to stay 100 yards away from him for three years
Brad Pitt and Jennifer Aniston have bought English home belonging to their celebrity chef pal Jamie Oliver. (November 3, 2004)
Brad enjoys playing the guitar, he owns and plays Taylor guitars
he has been banned from China for life because of his role in the controversial film Seven Years in Tibet
Brad shares a birthday with Christina Aguilera, Katie Holmes, DMX and Steven Spielberg
Brad has made reservations with Richard Branson to fly into space in 2010.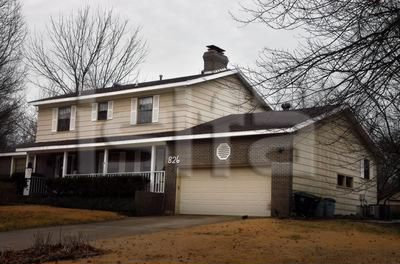 House where he was born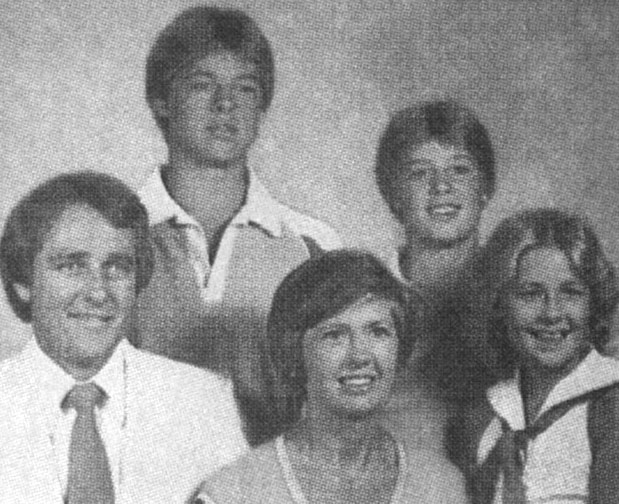 Brad with his family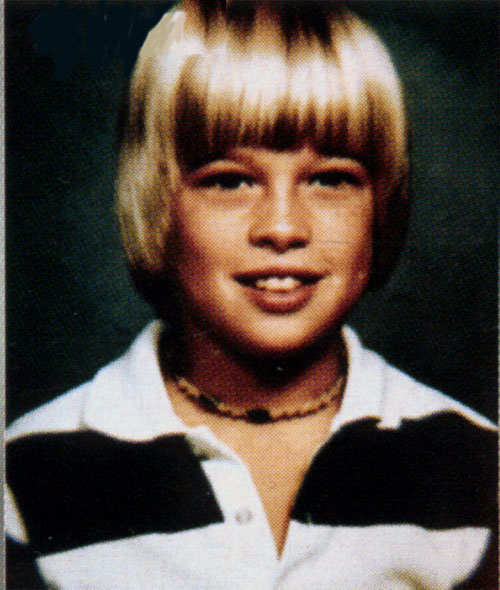 Brad Pitt in 1974.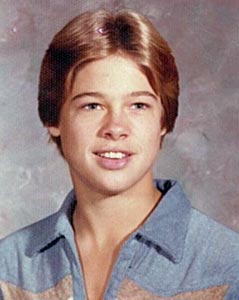 And few years later in 1979.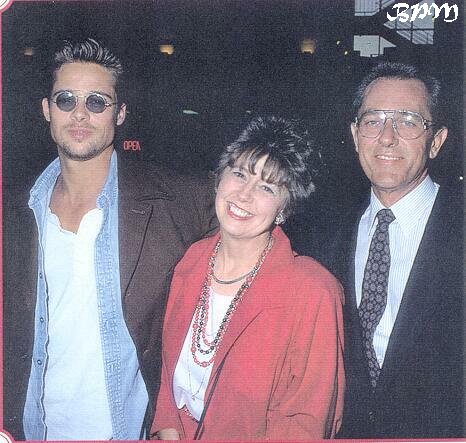 Again with family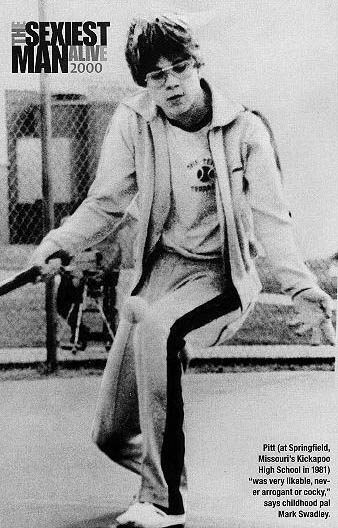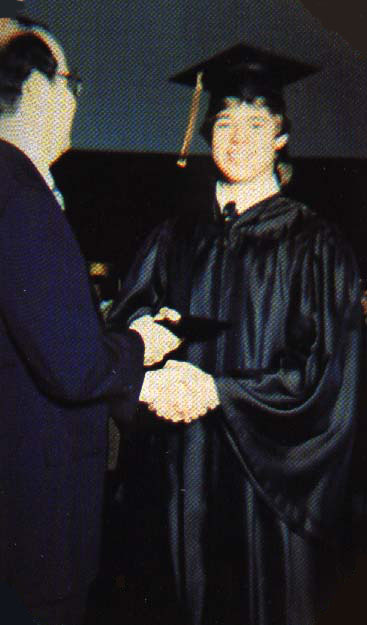 Receiving his diploma at Kickapoo School,1982.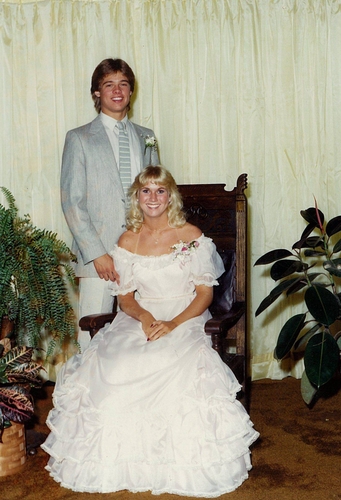 Brad and his girlfriend Tonya Westphalen, around 1979.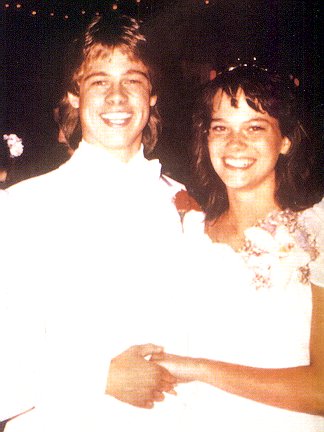 Brad and girlfriend Sara Hart, probably 1982.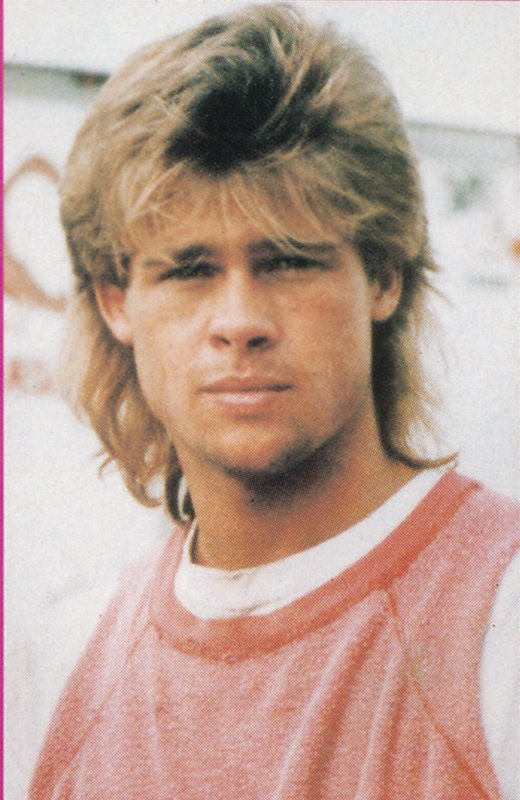 Brad in 1984.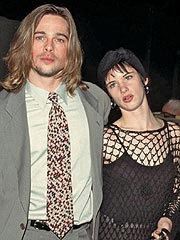 Brad and his wife Juliette Lewis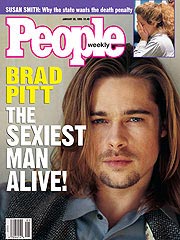 One of his numerous covers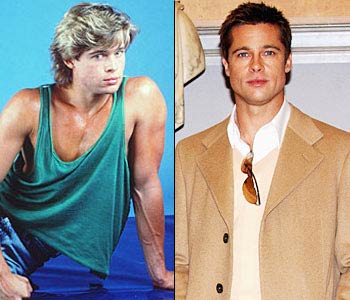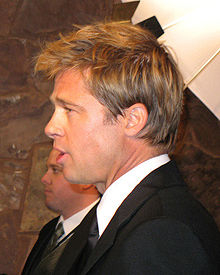 Brad Pitt's Dates:
April FlorioTonya Westphalen (1979)
Sara Hart (1982 – 1983)
Lorrie M (1984)
Christina Applegate (1988)
Sinitta Cowell (1988)
Shalane Mccall (1988)
Jill Schoelen (1988 – 1989)
Elizabeth Daily (1989)
Robin Givens (1989)
Juliette Lewis (1989 – 1993)
Geena Davis (1990 – 1991)
Thandie Newton (1994 – 1995)
Jitka Poheldek (1995)
Gwyneth Paltrow (1996 – 1997)
Mar Saura (1997)
Katja Von Garnier (1997)
Lisa Davis (1998)
Jennifer Aniston (2000 – 2005)
Angelina Jolie (2005 – now)
Filed under: Celebrities Then And Now | Tags: Acting, Brad Pitt |





(13 votes, average: 4.00)


Loading ...