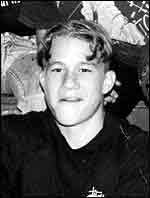 Full Name: Heath Andrew Ledger
Born: April 4, 1979
Nationality: Australian
Birthplace: Perth, Western Australia
Education: Marys Mount Primary School, Guildford Grammar School
Children: Matilda Rose Ledgar (with Michelle Williams)Occupation: Actor
This post is dedicated to Heath Ledger, young and successful Australian actor, who recently tragically died in his 28th year. Most of people noticed his great roles in Brokeback mountain, The Patriot or Monster´s Ball and through the years he got lot of fans worldwide. This is not just story about his younger age, it is also complete biography in long memory of his productive, but unfortunately short life.
Heath Andrew Ledger was born on the 4th of April, 1979, at the Subiaco Hospital in Perth, Western Australia. He is son of Sally Ledger Bell, a French teacher, and Kim Ledger, a race car driver and mining engineer. Ledger's mother is descended from the Clan Campbell of Scotland and his father comes from a family known in Perth for their ownership of the Ledger Engineering Foundry, so Ledger name was well-known in Perth. The Sir Frank Ledger Charitable Trust, named after Heath's great-grandfather, was renowned for granting funds to the area's universities, paying for visiting lecturers and scholarships for gifted students.Heath (Heathcliff) and his sister Katherine, born four years earlier, were named after the two main characters in Emily Bronte's Wuthering Heights.They had two more half-sisters, Olivia and Ashleigh, born to Kim and Sally respectively once they had separated. This happened when Heath was 10.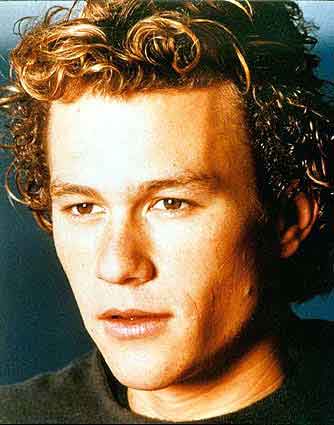 At that time he attended Marys Mount Primary School, in Gooseberry Hill, and later Guildford Grammar School and its preparatory school of the same name, where he had his first acting experiences, starring in a school production as Peter Pan. It is an all-boy academy set some 15 kilometres to the north-east of the city. For ten years this would be the seat of Heath's education. Dedicated to "the growth and freedom of young minds and bodies", it had vast playing fields, horse riding facilities and even its own farm. Students could go rowing on the river or swimm in an Olympic sized swimming pool.At Guildford, Heath was playing cricket and football and especially enjoyed in field hockey.Outside of school he surfed and skateboarded and was a keen fisherman. He also spent much time with his father in the pitstops of many motor sport and speedway events, and would win several titles as a go-cart champion.Beside this, Heath´s true love was art. After his first school shows, several teachers actively discouraged him but this just made him angry and all the more determined. As would be the norm throughout his life, he would learn rapidly. Though he had no real thoughts of a career in cinema, he did love films, particularly idolising Gene Kelly.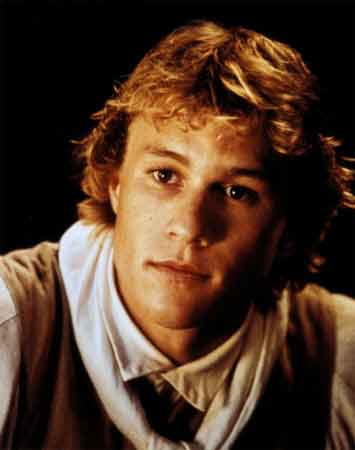 Despite Ledger yet had no clear idea of a screen career, he was aware of the possibility, certainly enough to get himself taken on by his sister's agent. And after pretty short period, in 1995, Ledger joined the cast of the TV series Sweat, which was shot in Perth. Heath was given the choice of two parts – a swimmer or a cyclist – and between this two he chose to play a gay cyclist, Steve "Snowy" Bowles.The most important thing of this role was the fact that he made a connection. Also appearing in the show, as Tom Nash, was actor Martin Henderson. Though four years older than Ledger, he got on really well with the younger kid and recognised in him something special. On his return home to Sydney, Henderson called Ledger and told him he should come to the big city and give acting a real shot. Ledger was unsure but decided to try his luck. Arriving at Henderson's apartment with just a small bag and a surfboard, he camped in his friend's living-room and was introduced to a wider world of film, TV and theatre.Though only 16, Ledger decided to give it a go. He returned to Perth, left school, gathered his belongings and, along with Trevor DiCarlo, his best friend since the age of 3, he drove the 3,200 kilometres back to Sydney. Here he, DiCarlo and Henderson would share an apartment in Bondi for around a year. Ledger would teach Henderson to surf, rising at 6am to ride the waves at sunrise on the northern beaches.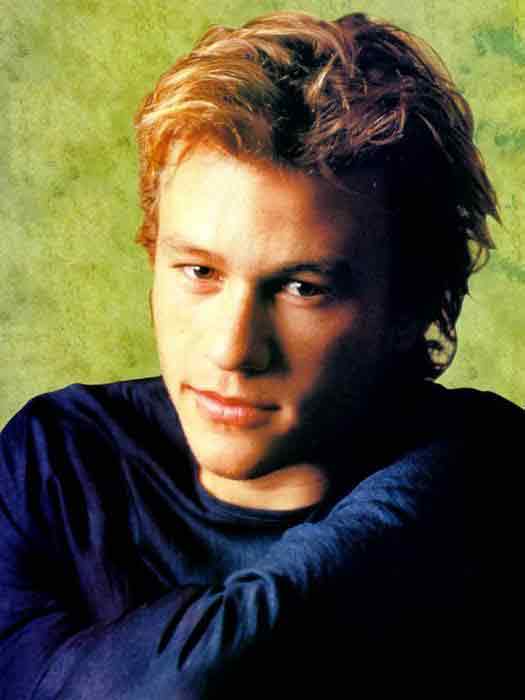 Work, enviably, came quickly to him. He'd win a small role in the movie Blackrock where a schoolboy witnesses a rape and murder and must hold his tongue so as not to betray his friends. Then there'd be another tiny part in Paws, where Ledger appeared as a student playing Shakespeare's Oberon in a play within the movie. With money being short, he even took a part in long-running soap Home And Away, concerning the lives and loves of the residents of Summer Bay. Ledger would appear in several episodes as Scott Irwin, a rough-boy surfer-type who hides a shameful secret and commits assault when he's framed and excluded from school.In 1999, Ledger starred in the teen comedy 10 Things I Hate About You and also had the lead role in the acclaimed Australian movie Two Hands, directed by Gregor Jordan. From 2000 to 2005 he had lot of various roles such as that in The Patriot, Monster's Ball, A Knight's Tale, The Four Feathers, Ned Kelly, The Order, and The Brothers Grimm. Ledger also received "Best Actor of 2005″ awards from both the New York Film Critics Circle and the San Francisco Film Critics Circle for his acclaimed performance in "Brokeback Mountain", in which he plays Wyoming ranch hand Ennis Del Mar, who has a love affair with aspiring rodeo rider Jack Twist, played by Jake Gyllenhaal.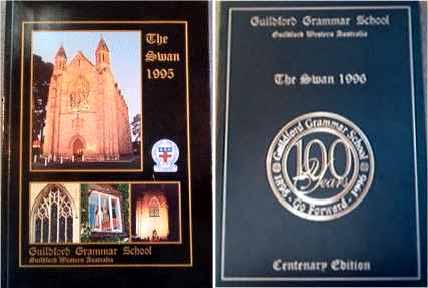 In review in Rolling Stone, Peter Travers wrote: Ledger's magnificent performance is an acting miracle. He seems to tear it from his insides. Ledger doesn't just know how Ennis moves, speaks and listens; he knows how he breathes. To see him inhale the scent of a shirt hanging in Jack's closet is to take measure of the pain of love lost.In 2005, Ledger played a fictionalised version of Giacomo Casanova in Casanova. The film, a romantic comedy which co-starred Sienna Miller, drew mixed reviews from critics and failed to find a significant audience among general moviegoers. In 2006, Ledger was invited to join the Academy of Motion Picture Arts and Sciences. In 2007, he was one of six actors to portray different sides of singer Bob Dylan in the film I'm Not There. Ledger played iconic comic book villain The Joker in The Dark Knight, the sequel to the 2005 film Batman Begins, opposite fellow I'm Not There star Christian Bale. The film is set to debut on July18, 2008. The film The Imaginarium of Doctor Parnassus, in which he had been cast, was in production at the time of his death.
Heath also started a record company with singer Ben Harper. His first step in the music business was directing Harper's music video for "Morning Yearning". In 2006, Ledger directed three music videos: "Cause an Effect" and "Seduction Is Evil (She's Hot)" for Australian hip-hop artist N'fa, as well as "Morning Yearning" for Ben Harper. In 2007, Ledger spoke at a news conference at the Venice Film Festival about his desire to direct a music video set to the music of Nick Drake, even though he also said at the conference that such hopes had faded away. It was found out after Ledger's death that he had, in his final days, created a music video for Nick Drake's 1974 song "Black Eyed Dog", one of the last songs recorded by Drake. The black-and-white video, which has not been released to the public, shows the camera being turned on Ledger, who, at the end of the video, drowns in a bathtub.HEATH`S TRAGIC DEATH
Tragedy struck on Jan. 22, 2008, when Ledger was found dead in his Manhattan apartment. Authorities were called and arrived on scene, discovering no apparent foul play but numerous pills nearby and declared his body in "full cardiac arrest" upon their arrival. At the same time the actor's body was being prepared for burial in Perth, Australia, the Chief Medical Examiner for the City of New York concluded in his report "based on the toxicology findings" that Ledger had suffered an "accidental overdose" by the combined effects of oxycodone (Oxycontin), hydrocodone (Vicodin), diazepam (Valium), temazepam (Restoril, i.e. sedative), alprazolam (Xanax), and doxylamine (i.e. sleep aid). Ledger was for sure one of the biggest stars Perth has produced, and his death is huge loss not just for his hometown, but for millions of fans across the world.
PERSONAL LIFE
From August 2002 to April 2004, Ledger had a relationship with actress Naomi Watts, whom he met during the filming of Ned Kelly. Previously, he had dated actresses Lisa Zane and Heather Graham. Ledger was engaged to actress Michelle Williams, whom he met on the set of Brokeback Mountain. Their daughter, Matilda Rose, was born on October 28, 2005 in New York City. Ledger and his family divided their time between Brooklyn, Los Angeles, and Sydney.In August 2007, Us Weekly reported that Ledger and Williams ended their relationship because of their busy schedules. Neither Ledger nor Williams confirmed the rumour at that time. In September, 2007, Williams' father, Larry, confirmed to Sydney Daily Telegraph that Ledger and Williams had indeed split. In early 2008, Ledger was reported to have been seeing model Gemma Ward after media articles linked the two together at end of 2007 holiday celebrations.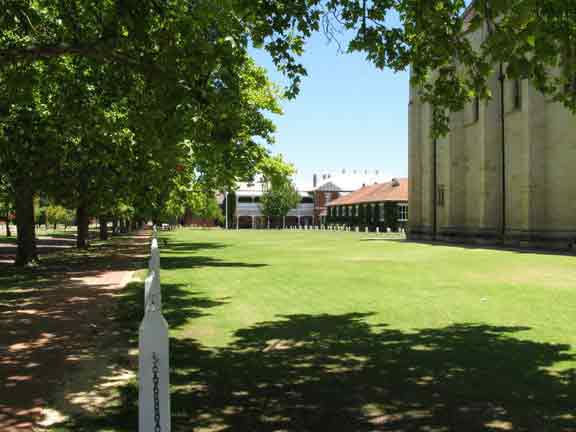 Guildford Grammar School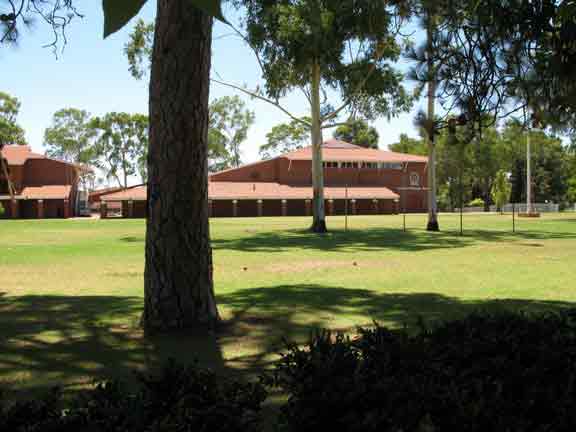 Guildford Grammar School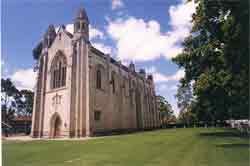 Chapel of St Mary & St George, at entrance of GGS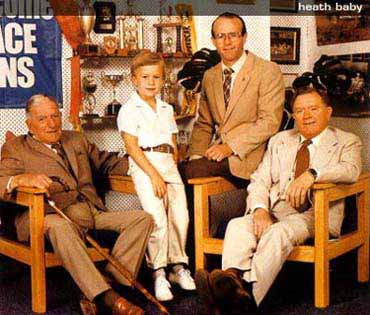 From left, Heath's great-grandfather, Sir Frank Ledger, 86, Heath aged 6, dad Kim, 35, and Heath's grandfather, Colin Ledger, 60. All the senior Ledgers were engineers. (1985)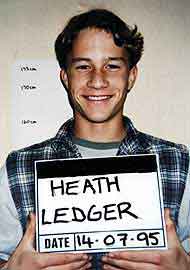 Heath at his first ever casting call. You can see the date on picture;)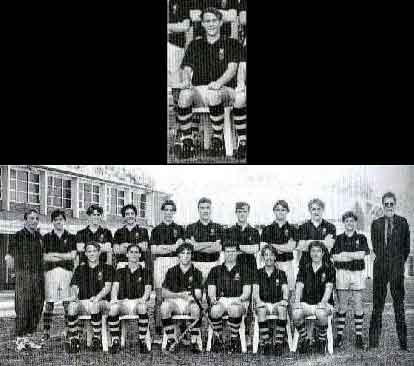 Heath and his field hockey team. Courtesy of the Wilson Collection.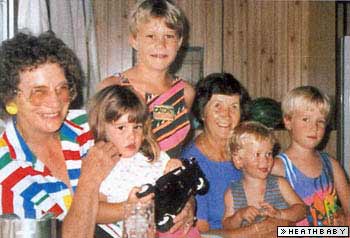 Heath (standing) with grandmother Es, three cousins, and his grandfather's carer. (1989)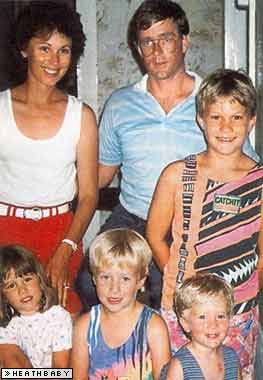 Heath (standing, on right) with his godparents Mike and Dianne and some cousins. (1989)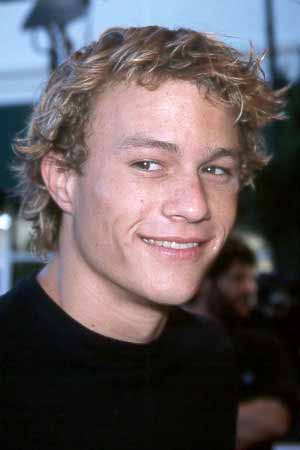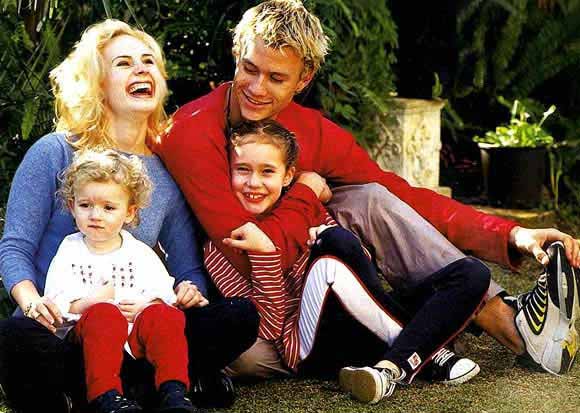 Heath with older sister Kate and half sisters Olivia and Ashleigh (lower right). (1999)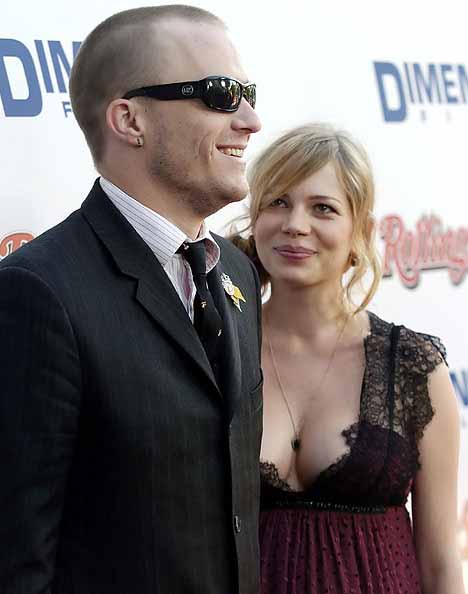 Heath and Michelle Williams
Heath with his two year old daughter Matilda
HEATH LEDGER´S TRIVIA:
Heath and his sister are named after the two main romantic characters of the Emily Bronte novel, "Wuthering Heights" attended a private all-boys school called Guildford Grammar had three sisters: Catherine (Kate) Ledger, married to Nathan Buckey, and half sisters Olivia Ledger and Ashleigh Bell.
His parents divorced when he was 10
was selected in the State U17 squad in field hockey and was touted as one of the up and coming young stars, but chose to pack it in and try to make a career out of acting.
Was a part of the 1990 Kalamunda Field Hockey team, whose president his father Kim was from 1990 to 1992. His first acting role was as "Peter Pan", at age 10, at a local theater company
Heath concentrated on both drama and sports in school. When forced to pick one over the other, he picked drama
he was captain of the drama team in high school
Heath owned a pet kangaroo that was found by his mother as a child
Ledger won several awards for hockey while in high school he actually wanted to be a
teacher
finished high school a year earlier at age 16.
was of Irish and Scottish ancestry.
was mentored by, lived with, and was very good friends with Martin Henderson.
Heath had a tattoo on his wrist: "KAOS." They are the first initials of his mom and three sisters: Kate, Ashleigh, Olivia, and Sally. He also joked that growing up surrounded by girls was "Chaos."
his main passion in life apart from acting is photography
first got his start in the Globe Shakespeare Company in Perth, Australia
Heath made his movie debut in 1997 Australian teen drama
most of his wardrobe was designed by his friend Shem
was a men's-fashion judge at the Melbourne Cup Carnival in November 2001.
he is a self taught tap dancer
was originally set to star in Oliver Stone's Alexander (2004) before Colin Farrell took over the role.
dated Heather Graham. (October 2000 – June 2001)
dated Naomi Watts from August 2002 to May 2004.
he and Naomi Watts broke up for the 2nd time in April 2004.
met Michelle Williams on the set of Brokeback Mountain (2005).
former fiancée Michelle Williams gave birth to daughter Matilda Rose Ledger on 28 October 2005, who weighed in at 6 lb, 5 oz.
was the first non-American actor to portray the Joker.
called off his engagement to Michelle Williams in September 2007.
chosen by Empire Magazine as one of the 100 Sexiest Movie Stars in the world (#79) 2007.
resided in Brooklyn, Los Angeles and Sydney.
directed three music videos for Australian artist N'fa and Ben Harper.
was painfully shy.
Heath lived in Roman Way, Islington while filming his last movie ever in London in 2007.
was very good friends with Russell Crowe.
favorite food was risotto.
Ledger and his fellow Hollywood star girlfriend Naomi Watts argued with Sean 'P Diddy' Combs's bodyguards – because they were warned for dancing too close to the rapper at a night club. (October 18, 2002) The medical examiner said Ledger died from an accidental overdose of six different drugs (painkillers and sedatives), leading doctors to warn of the dangers of mixing prescription drugs. (February 6, 2008)
Filed under: Celebrities Then And Now | Tags: Acting, Heath Ledger |





(1 votes, average: 5.00)


Loading ...