Full Name: Calvin Cordozar Broadus Jr.
Born: 20. Oct. 1972.
Nationality: USA
Birthplace: Long Beach, California
Education: Long Beach Polytechnic High School
Occupation: Rapper, Actor, Producer
He is a true gangsta rapper with undeniable and unique style, coming from Long Beach, with roots straight from far south (Sothern Mississippi). His intriguing appearance always inspire his fans as much as iritate his opponents. Because of his open-minded and expressive lifestyle, I decided too check out what hides behind this succesfull rapper and how his childhood on the streets really looked like. Yea, fo shizzle my nizzle;)…
Calvin Cordozar Broadus Jr. was born on October 20, 1972, in Long Beach, California, to parents Vernell Varnado (he was a singer and postal worker) and Beverly Tate. Snoop mentioned in his reality show, "Snoop Dogg's Father Hood", that his uncle was influential in his family moving to Los Angeles from Southern Mississippi, proving the rarely mentioned rumor that he was originally from there.
Snoop got his stage nickname very young from his mother who jokingly remarked that he looked like the Peanuts character Snoopy. He began performing at an early age in church. Snoop was playing piano at age five and he credits this experience with helping him to be comfortable performing in front of people and loosing stage fright (he definitely doesn`t have any..).
He was frequently in trouble with drugs and the law as a young man. Snoop attended Long Beach Polytechnic High School and after graduating was convicted for cocaine trafficking. So Snoop was tough guy even in his school age. Another proof of that is the fact that he was a member of a local Crips gang in his hometown.
The Crips are African American gang founded in Los Angeles, California in 1969. What was once a single gang is now a loosely connected network of individual sets, often engaged in open warfare with one another. Through the years the gang has grown to be one of the largest and most powerful gangs in the U.S. with a membership that exceeds well over 30,000 gang members. The Crips are also known to be involved in murders, robberies, drug dealing, among many other criminal pursuits.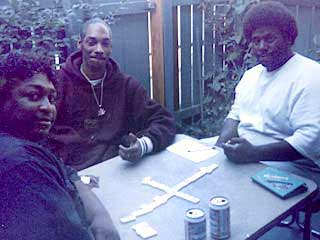 They have an intense and bitter opponents in Bloods as well as in some Mexican American gangs. That is the short story about the gang which member he was in highschool years…definitely not the ideal crew to hang out with when young.
However, Snoop Dogg's conviction caused him to be in and out of prison for the first three years after he graduated from high school. Pushed by older inmates to finally make something of himself, he began recording homemade rap tapes with his cousin Nate Dogg and best friend Warren G, who happened to be stepbrother of Dr. Dre of N.W.A. In those early stages, Nate's cousin Lil' 1/2 Dead was also part of the group, called 213 after the area code of Longbeach at the time. When Dr. Dre heard few of Snoop´s mixtapes he began collaborating with the young rapper, first on the theme song of the film Deep Cover, and then on Dr. Dre's debut solo album The Chronic.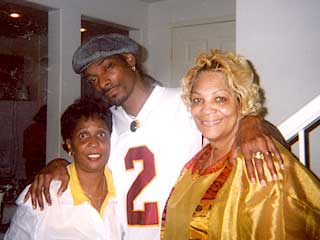 Snoop Dogg's contribution to The Chronic was considerable; his rhymes were as present as Dre's, so the huge success of Snoop's future debut album Doggystyle is largely due to this intense exposure. While recording Doggystyle with Dre in August of 1993, Snoop was arrested in the shooting death of Phillip Woldermarian, a member of a rival gang who was later revealed to have had a secret obsession with Snoop. He was eventually acquitted on both self defense grounds and because he allegedly drove the car while his bodyguard McKinley Lee fired the fatal shots (Lee was also acquitted on self defense grounds). Snoop remained entangled in the legal battles around the case for three years. His video "2 of Amerikaz Most Wanted" with Tupac Shakur chronicled the difficulties each rapper was dealing with as a result of their unrelated but concurrent criminal prosecutions.
Several of Snoop´s cousins also became hip hop artists like RBX, Joe Cool, Nate Dogg and Daz Dillinger, who often collaborated with him. Snoop is also the nephew of Bootsy Collins, a legendary funk bassist and member of Parliament-Funkadelic. Speaking of his relatives and private life it´s essential to mention his wife and kids. Snoop Dogg married Shante Taylor on June 12, 1997, and they have three kids: daughters Cordell and Cori Broadus, and son Corde Calvin Broadus. In May of 2004, Snoop reportedly filed for divorce from his wife Shante, citing irreconcilable differences, and was seeking joint custody of their children. But after some time they have withdrawn the divorce papers.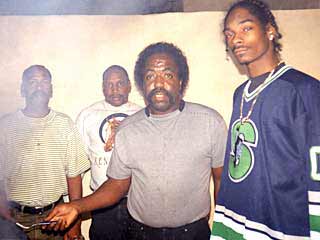 Doggystyle was finally released in November of 1993 on Death Row Records, and became the first debut album ever to enter the charts at number one. The singles "What's My Name" and "Gin and Juice" went to the top ten, and the album remained in the charts for several months, even as controversy raged over the murder trial and his allegedly violent and sexist lyrics.
By the time Snoop's second album Tha Doggfather was released in November of 1996, the popularity of gangsta rap had begun to fade, dragged down by the death of Snoop's friend Tupac Shakur and the racketeering indictment of Death Row co-founder Suge Knight. Dr. Dre had left Death Row earlier that year, and so Snoop co-produced the album himself with Dat Nigga Daz and DJ Pooh.
This album featured a distinct change of style as compared to Doggystyle. While the album sold reasonably well, it was not as successful, and it was widely believed that its quality suffered from Dr. Dre's lack of involvement. However, Tha Doggfather had a somewhat softer approach to the G-funk style, and Snoop Dogg used a less energetic and more charismatic type of rhyming style, which would be more widely incorporated and exercised later on in his career. And his career went upwards, despite slight disappointment because of number of sold copies of The Doggfather. Through the time Snoop even more improved his ryming style and stage appearance leding to impressive discography, as well as filmography at these days.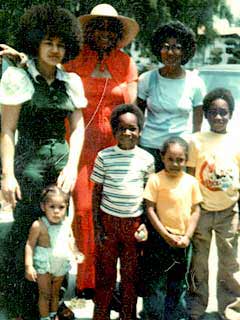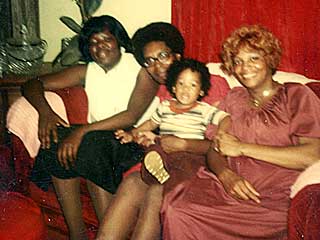 Snoop with cousins. He is in the middle.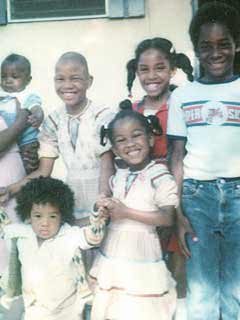 Again Snoop and cousins..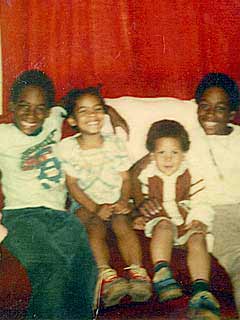 He sits on the left.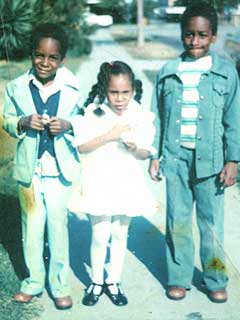 Snoop, Jackie and Jerry.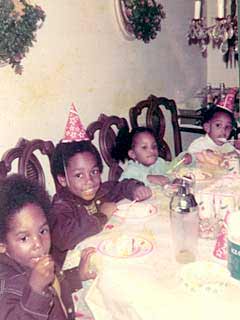 Snoop with Kisha, Jackie and Jerry having birthday party.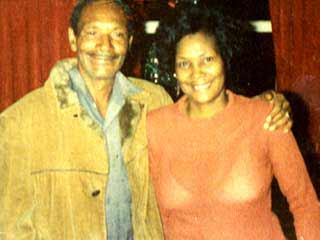 Snoop´s mom and dad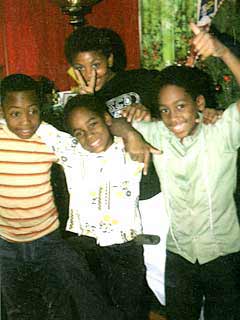 Rbx, Jerry, Snoop (in the middle), Jazz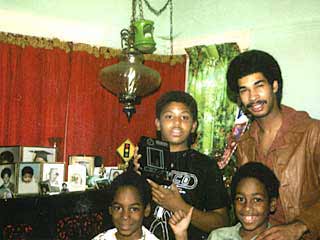 Rbx, uncle, Snoop (down left), Jerry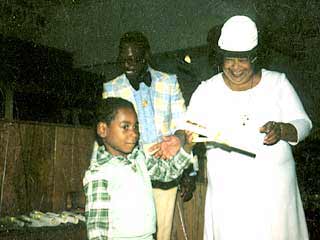 Snoop´s first recital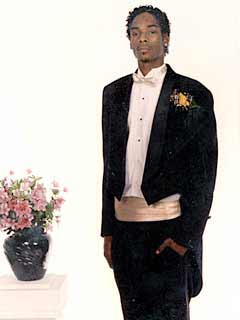 Snoop at his prom

Snoop and his grandma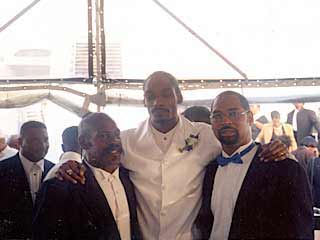 On his wedding
SNOOP DOGG IN SHORT TRIVIA:
he is the natural son of Verhell Varnado and Beverly Tate. However his mother married Cardozar Calvin Broadus Sr., who adopted his stepson
Snoop attended Jordan High School in Long Beach, California. He graduated high school from Long Beach Poly High.
Snoop sang in his church choir since the age of five

Snoop was a member of Crips, and was in and out of jail for three years after high school
while recording his debut album Doggystyle, with Dr. Dre in August 1993, Snoop was arrested in the shooting death of gang rival Phillip Woldermarian.
he got his nickname very young from his mother who jokingly remarked that he looked like the Peanuts character Snoopy
he is the nephew of Bootsy Collins, a legendary funk bassists and member of the band Parliament-Funkadelic.
he was good friends with deceased rapper 2Pac.
Snoop is known for using a unique for of double speak in his songs. He adds the word "izzle" to the end of a word whenever he can
he always includes a remake of an old song on all of his albums
he is a diehard fan of USC football. He also likes NFL Football. He likes the Pittsburgh Steelers.
Snoop is a fan of the band Metallica
RBX, Nate Dogg, Daz Dillinger, Joe Cool, Brandy Norwood and Ray J are all Snoop's cousins.
in 2007, he was ranked #7 on the Forbes "Hip-Hop Cash Kings" list with $17 million in earnings.

Snoop has unveiled a new line of his own flavored Blunt Wraps, for your smoking pleasure. He is offering up flavors in lime, cherry, chocolate, and strawberry banana.
Snoop is co-creator of "Chronic Candy". A candy that tastes like marijuana from Switzerland that is currently banned in most United States cities.
he joined the long list of celebrities lampooned by South Park. It happened in South Park episode 77 entitled "Here Comes the Neighborhood."
Snoop refers to Frank Sinatra as the 'original gangsta'.
Snoop's favorite sport teams are: Los Angeles Lakers, Pittsburgh Steelers, and the USC Trojans.
Snoop released his own line of adult movies in 2004
did commercials for the T-Mobile Sidekick
as a rapper, Snoop is best known for his 'lazy drawl', a slurred distinctivly calm, laid back complex lyrical delivery.
Snoop Dogg's wifes name is Shante Taylor they have been married since June 12th 1997, and they have three children together.
he discovered and named rapper Bow Wow.
starred in commercial for GM motors.

when Snoop came to Nottingham, England on part of his UK tour this year he got a bottle thrown at him from an audience member during the last song. It hit him just below his right eye and the concert suddenly ended.
his height: 6′ 31″ (1.92 m)
when his elders started to push Snoop to make something better of himself, he & cousin 'Nate Dog' along with best friend 'Warren G.' formed the group '213
', named after the Long Beach area code.
Snoop announced on November 16th, 2006 that he was unleashing a new line of clothes, for the dogs. He is making gangster hoodies for pooches, faux print animal jackets, and toys that play his music.
on May 15, 2006 the Home Office decided that Snoop is denied entrance to the UK for the foreseeable future and most likely forever. This order was due to the fracas at Heathrow Airport along with his previous US convictions for fire arms & drugs.
Snoop's favorite sport teams are: Los Angeles Lakers, Pittsburgh Steelers, and the USC Trojans

.

Snoop laid tracks on the following movie soundtracks: Bad Boys II, Charlies Angels: Full Throttle, Dr. Doolittle, & Save The Last Dance.
Snoop announced that he was giving up drinking and drug use in 2002.
he strongly encourages kids to participate in extracurricular activities. He subsidized about $2 million every year to extra curricular activities for children.
he started his own youth football league called the Snoop Youth Football League (SYFL)
SNOOP DOGG´S DISCOGRAPHY:
1993: Doggystyle
1996: Tha Doggfather
1998: Da Game Is to Be Sold, Not to Be Told
1999: No Limit Top Dogg
2000: Tha Last Meal
2002: Paid tha Cost to Be da Bo$$
2004: R&G (Rhythm & Gangsta): The Masterpiece
2006: Tha Blue Carpet Treatment
2008: Ego Trippin'
SNOOP DOGG´S FILMOGRAPHY:
1994: Murder Was the Case (Platinum)
1998: Half Baked (cameo appearance)
1999: Hot Boyz
1999: Whiteboyz
1999: Urban Menace
2000: Up In Smoke Tour
2001: Baby Boy
2001: Training Day
2001: Bones
2001: The Wash
2003: Malibu's Most Wanted
2003: Old School
2004: Starsky & Hutch
2004: Soul Plane
2004: Volcano High
2005: Boss'n Up
2005: Racing Stripes
2006: The Tenants
2006: Weeds: Himself
2007: Arthur and the Minimoys (voice)
2007: Monk: Murderuss
2007: The Boondocks: Macktastic
**thanks to vh1 for this great image resource:
http://www.vh1.com/photos/gallery/?fid=1493587&pid=1669932
**For more interesting pictures and facts about top celebrities, visit Celebrities Then And Now category.
You can bookmark this article or share it with your friends using button below!
Filed under: Celebrities Then And Now | Tags: Acting, Music, Snoop Dogg |





(4 votes, average: 5.00)


Loading ...