It`s been raining the whole day here at my place, and the weather is generally terrible, with lot of southern winds. Maybe it`s good for surfing, but most of people are freaking out because of that. And world news are not making things easier at all. I hope that this fast spreading swine flu is not going to appear in your area, but lot of people are concerned and stressed out because of cases in their neighborhood.
To forget about all problems just for few minutes and to cheer you up a little bit, I decided to publish maybe the funniest picture from my whole collection which contains various pictures of celebrities when they were young. I suppose it is hard to stop laughing when you see this lovely baby on the picture. Well, if you didn`t know, this little baby, which was born in Englewood (New Yersey) in 1954, is one of the major future Hollywood stars. His father was a second-generation Italian American and his mother was Irish American. He was the youngest of six children in family, so it is sure that he had to fight for himself throughout the childhood. If you have older brothers, you`ll know what am I talking about. He has impressive list of roles in his cereer, but probably one of the most famous is that one from Quentin Tarantino`s megahit Pulp Fiction. I think that you should have enough hints to try to guess who could it be.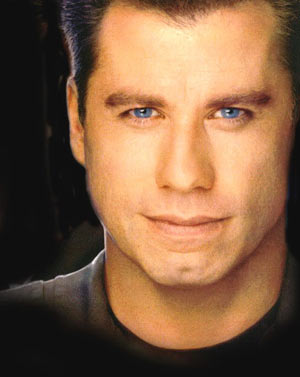 To be more precise, he was playing Vincent Vega, one of the main roles in legendary Pulp Fiction, and now I am sure that all of you know that his name is John Travolta, because I don`t know what have you been doing all this time if you didn`t watch such a great classic as Pulp Fiction. One of interesting facts that I have found when I was preparing this article is that Richard Gere practically owes Travolta whole his film career, because our Celebrity X turned down the leads for Days of Heaven (1978), American Gigolo (1980), An Officer and a Gentleman (1982), and Chicago (2002), all of which went to Gere. Another awesome fact is that Travolta is a certified pilot and owns five aircraft, including an ex-Australian Boeing 707 airliner. This plane bears the name Jett Clipper Ella in honor of his children. Pan American World Airways was a large operator of the Boeing 707 and used Clipper in its names. The 707 bears the marks of Qantas, as Travolta acts as an official goodwill ambassador for the airline wherever he flies. And if he needs to fly away intantly, his $4.9 million estate in the Jumbolair subdivision in Ocala, Florida, is situated on Greystone Airport with its own runway and taxiway right to his front door. How awesome is that? When I find all great fact about him, his full article will appear in Celebrities Then And Now category, but before that, another CTAN issue about one famous celebrity will be published. It`s going to stay a surprise who is that celebrity , so come back and see it for yourself next week.
Filed under: Celebrity X | Tags: Acting |





(3 votes, average: 4.00)


Loading ...