As we announced a few days ago, today we are introducing the first issue of our brand new category. Celebrity Timeline category will cover most interesting moments in life of various celebrities with just a few best pictures. In that way you will have effective overview of their life, and if you are curious and you want to know more about that exact celebrity, you can visit our Celebrities Then And Now category. Also, a short description is going to be given which explains the story behind the pictures.
This category will be updated frequently, and we hope that you will enjoy following up fresh issues dedicated to famous celebrities, from actors and singers to sport superstars.
For the first issue we present you one of the most famous Hollywood actors at this time, Brad Pitt. He was born in 1963.(December 18.) in Shawnee, Oklahoma, and in the first picture you can see Brad when he was little baby, just one or two years old. Second picture is taken in 1974. (he was 11 years old), at the time when Brad attended Horace Mann elementary in Springfield, Missouri. Few years later (third picture, taken in 1979, when he was 16), Brad was attending Kickapoo High School in Springfield, where he was involved in sports, debating, student government and school musicals. He was popular in school, where he was voted for best dressed senior and his classmates from the school claim that he always had a lot of dates back in that time. In 1986, with only two credits left to graduate from University of Missouri in Columbia, he left school and headed for California to try his luck. In the meantime, lot of things went well for Brad, and you can read more facts about his life or see more pictures in his Celebrities Then And Now category.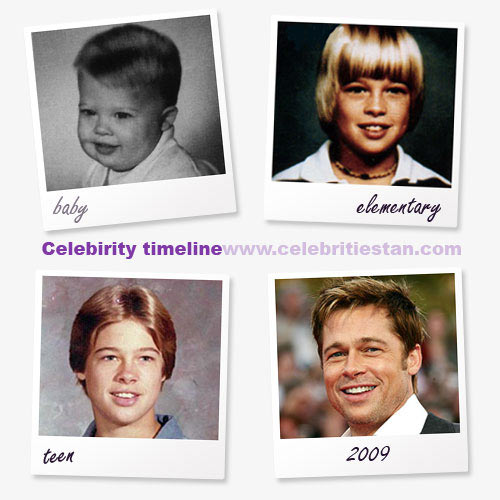 Filed under: Celebrity Timeline | Tags: Acting, Brad Pitt |





(5 votes, average: 4.00)


Loading ...