Like in the previous Celebrity X issue, today we are presenting you another popular American singer. To be more precise, this celebrity became famous pop and R&B singer and songwriter. She was born in Staten Island, New York, although when her parents divorced, mother took her and her younger sister to their grandmother's home in Rochester, Pennsylvania, a suburb outside of Pittsburgh. For that reason she has spent the majority of her childhood in Pennsylvania. Celebrity from the picture aspired to be a singer from her very young age. At that time, she was known locally as "the little girl with the big voice", singing in local talent shows and competitions. According to some sources, her brilliant talent provoked fear in all of her competitors. Whenever competitors heard that they would be up against her in any given competition week, they would immediately withdraw. She was so good that soon her peers became jealous of her and would frequently subject her to ridicule. Jealousy even escalated with acts of vandalism around her house including the slashing of the tires on the family car and similar acts. Eventually, the family relocated to Wexford, another suburb in the Pittsburgh area. At least, this time they tried to keep her talent in secrecy to avoid further inconveniences.
She first appeared on national television in 1990 as a contestant on the Star Search program, and went on to star in Disney Channel's television series The New Mickey Mouse Club from 1993–1994. I hope that until now you have a clue about the possible name of this celebrity, so it is time to find out who are we talking about this time. Be sure to double-click the "+/- Show Answer" link below this text to reveal the answer!!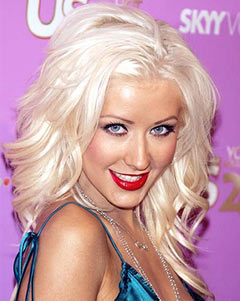 After her performances at MMC, at the age of fourteen, she recorded her first song, called "All I Wanna Do", duet with Japanese singer Keizo Nakanishi, which became a huge hit. Soon later, she signed to RCA Records after recording "Reflection", a song on the soundtrack of the popular 1998 animated film "Mulan". At that point she became popular across the globe, when she released her debut album, which name is also an answer to this Celebrity X issue. The album, which was a commercial success spawning three number one singles on the Billboard Hot 100 is called "Christina Aguilera", and our young celebrity from the picture is Christina María Aguilera.
Come back soon and read more great facts about her amazing life and see her rare childhood pictures at CelebritiesTAN.com. And in the meantime, check out the story about Britney Spears, her fellow from The Mickey Mouse Club. At that time Britney was her best friend, but later their relationship became complicated, varying from good friends to eternal rivals. You can also try to guess other famous celebrities from our older issues of Celebrity X category. Good luck!!
Filed under: Celebrity X | Tags: Music |





(5 votes, average: 3.60)


Loading ...