Before I give you some hints about our new Celebrity X issue, I must say that we are almost done with migrating of the site to new WordPress platform. That means that in a week or so, you will be witnesses of totally new and improved design of CelebritiesTAN.com, as well as faster loading of site although some extra features will be added, which will stay secret for now. All existing content and categories will stay unchanged, and you will always be able to reach content about your favorite celebrities again. Maybe you`ve noticed that in last few weeks there was less articles than usual, but when we finish all work related to site migration, we are going to return to our daily routine of publishing. It means that you can look up every day what is new on CelebritiesTAN.com, and fresh posts about new celebrities will wait for you. That is all about technical info for now, but lets move on to next Celebrity X now.
Today we present you another top female Hollywood celebrity when she was young. Difference between her and our past actors and actresses is that she comes from England. This hint already tells you much, because she is one of top five most famous English actresses, and some sources even gave her a title of "the best English-speaking film actress of her generation". Beside that, at the age of 22, she became the youngest actress to receive two Oscar nominations, and at the of age 33, she is now the youngest actor of either sex to receive six nominations. Along impressive award list goes huge list of successful roles, of course. Probably the most famous role in her career was that one in romantic disaster blockbuster from 1997, where she acted with another one great Hollywood celebrity, mentioned in our past issue of Celebrity X. That movie also became at the time the most expensive film ever made, costing approximately a stunning number of US$200 millions. Okay, now you really have enough facts, so follow link below to find out who it is.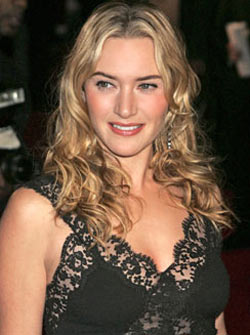 Lets start from the name of the mentioned movie. Probably you`ve guessed that I was talking about Titanic, which held that impressive record of most expensive film ever made. Now you know that her co-actor is also her very good friend, Leonardo Di Caprio, and that in today`s edition of Celebrity X we are talking about Kate Elisabeth Winslet. But you probably still don`t know a lot of thing that we can say you in her Celebrities Then And Now category, which is going to be completed soon. Great facts all the way back from the time when she was attending Redroofs Theatre School, an independent theatre training school in Maidenhead, Berkshire, England. You will also find out all about her early career and breakthrough roles to worldwide scene.
And for the end, I hope that you liked last Celebrity Timeline post, which is going to be a new regular category on CelebritiesTAN.com. If you still didn`t, you can follow the link and read all about Brad Pitt`s Celebrity Timeline for now, and more issues are coming soon.
Filed under: Celebrity X | Tags: Acting |





(5 votes, average: 3.60)


Loading ...