I hope that you like our new category called Celebrity Timeline where we present you a life of a celebrity in four pictures. If you are interested, follow this link to the first issue of mentioned category. As soon as possible, when we turn to dedicated server, we will introduce you new exciting categories, as well as standalone galleries of various celebrities for those who keep to that old one "picture is worth a thousand words".
Today we prepared one of the most popular male singers from one of the Spanish speaking countries. I am not even going to tell you from which country this celebrity is from, because it would be too easy to guess who is today's Celebrity X. When I say that this singer is from Spanish speaking area, I am sure that you instantly narrowed the choice to few persons. Once young kid, as you can see him on the picture, became famous as a member of one Latin boy band, and later started his solo career in 1991. In over three decades of his singing career, until these days, he has sold more than 55 million albums worldwide. Today he is considered to be a major star in the world of Latin Pop and is considered to have opened the doors for some of his fellow Latin American singers. I don`t want to make it too easy to guess who is our Celebrity X, so now is the time to answer that question, and then to check out if you were right here. And be sure to check the answer by double-clicking on the "+/- Show Answer" link inside the post.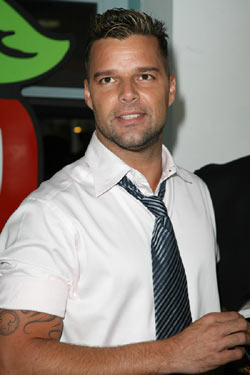 I hope that you didn`t have the answer after the first hint cause it just wouldn't be fun

! For those who are still wondering about who are we talking about, his name is Enrique Martin Morales. That is his real name, but he is much more known by his stage name. No, he is not Enrique Iglesias, as you could presume according to his name. His stage name is Ricky Martin, and he is a Grammy Award and Latin Grammy Award winning, most famous Puerto Rican pop singer.He was born on December 24, 1971, in Hato Rey, Puerto Rico and grew up in a Catholic home. According to his Catholic upbringing, he was an altar boy and went to Catholic school until he joined Latin boy band Menudo. After several years as a major star in Spanish speaking countries, Ricky Martin prepared his first English in 1999. It`s first and most prominent single was "Livin' la Vida Loca," which reached number one in many countries, and earned him a status of worldwide celebrity. You will soon be able to read more about Ricky`s breakthrough in his Celebrities Then and now article where all rare facts about his childhood and less known theater and soap opera acting, as well as Spanish singing era will be revealed. Until then, you can browse for other famous singers in Celebrities Then And Now category, or try our "Next random celebrity" button right down, and see which celebrity is going to pop out next.
Filed under: Celebrity X | Tags: Music |





(6 votes, average: 3.33)


Loading ...